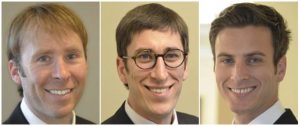 Whether you've just moved to Indianapolis or you've been here for a while, finding the right dentist is as important to feeling comfortable in your city as finding the right school for your kids, the best grocery store for your wallet, and the best gym that's not too far from your house. You want a dentist that has a great education, plenty of experience, and positive patient reviews.
Here at Newman Family Dentistry, we know what makes our patients feel cared for, and we've been in the family business long enough to be good at what we do!
We'd recommend looking for some of the following to help you decide whether we're the right fit for your family.
1. Check out our experience. Our three Dr. Newmans (brothers Marc, Don, and Mikel) have a lot of education and experience in various treatments. As the first graduate in the family, Dr. Don Newman graduated from Indiana University School of Dentistry and bought his first practice in Indianapolis, then a second practice in Carmel. Dr. Marc Newman then graduated with a Ph.D. in Dental Surgery and joined the practice, followed by Dr. Mikel Newman, who is a leading expert in tongue-tied or lip-tied infants who have breastfeeding difficulties.
2. Read our patient reviews. We know you'll find a lot of satisfied patients who have something positive to say about our practices. It's important to us that each patient feels cared for and gets all their questions answered. We want our patients to be life-long patients.
3. Get to know us. We want to be involved in our communities to make them a better place, and we understand what having a healthy family means. We want our patients to have healthy lives outside of our offices, so watch for Dr. Don volunteering as a pre-K baseball coach, or supporting some of our local sports teams with his family. You may also see Dr. Marc and his wife walking their dog, kayaking in Eagle Creek, or tasting their favorite local restaurants. Dr. Mikel can be found speaking at elementary schools to teach the kids about oral health, cheering for the Hoosiers, or jogging and hanging out with his two brothers.
As a family-run business, Newman Family Dentistry wants you and your family to feel welcome and stay healthy with the best dentists in Indianapolis, so give our office a call and schedule an appointment today!